New principal ready to tackle SKS traditions
Article from Kamloops Daily News, published 2006-09-11
© Copyright The Daily News in Kamloops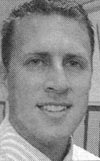 Cale Birk
Principal 2006 -

South Kamloops secondary's newest principal knows he has some big shoes to fill.

"The previous administration of (principal) Vic Bifano and (vice-principal) Lynn Fulton did a great job with amalgamating the uniqueness of the dual campuses," Cale Birk said Sunday.

"I hope the anxiety of two schools has dissipated … and we can continue to work on school spirit."

From what he's seen during his short time at SKS spirit is a big deal. Students and administrators have displayed a great deal of pride in their school, making him feel like he's joined the ranks of a winning sports team.

"It's expected that you're going to perform," he said.

"I hope I can continue to make memories here for myself and some of the students."

Birk grew up in Kamloops and attended Arthur Stevenson elementary as a boy. His parents moved when he was 10, but the city's small size and agreeable weather stuck with him.

He taught in Osoyoos before moving to Prince George, where he was vice-principal at College Heights secondary and principal at Kelly Road secondary.

Kamloops was never far from Birk's thoughts during this time. He would holiday here and come to play golf. When word reached him through the grapevine that Bifano was retiring he saw this as an opportunity to move back.

"I applied and went through the interview process. We did a tour of the school. I saw the place as a kid a long time ago and didn't remember much," Birk said.

He was hired earlier this spring and started Aug. 1. Birk plans to stay in the city for awhile.

"It's the only place I really wanted to live in B.C."
---
Vic Bifano inducted into 'hall of fame'
Article from Kamloops Daily News, published 2006-01-19
© Copyright The Daily News in Kamloops


Vic Bifano
Principal 2003-2006
Class of 1968

One of Canada's most outstanding principals is right here in Kamloops.

"I'm as surprised as anyone. I'm a bit taken aback by it all," Vic Bifano, principal of South Kamloops secondary, said Wednesday after learning he was been chosen as one of Canada's Outstanding Principals for 2006 by The Learning Partnership (TLP).

He is one of 30 principals from across Canada to receive the honour, which includes being inducted into the National Academy of Principals — a kind of "hall of fame for educators," Bifano said.

"When I think hall of fame I think hockey hall of fame," he said with a laugh.

Beverly Ruberg, a vice-principal at SKS, is one of the co-workers who nominated Bifano. She said the process was a lengthy one but worth it.

"In the end we submitted a 28-page document that included his story in a letter format and letters of support showing his attributes and telling how he does things," she said.

"We think he is the most outstanding principal in Canada, but we'll let him share the honour with 29 others."

It's Bifano's ability to organize and work with others that makes him so good at what he does. It's these attributes that helped him successfully amalgamate Kamloops secondary with John Peterson secondary in 2003, Ruberg said.

Bifano takes the praise in stride and credits his colleagues as a big part of his success.

"I go out and do what I do and do it to the best of my ability," he said.

"I think this honour speaks volumes to the culture of the school district, the culture of the schools and the support we get as a system."

Bifano retires at the end of January. Lynn Fulton, another SKS vice-principal, takes over as interim principal in February. A new principal will be hired later in the spring.

TLP is a non-profit organization dedicated to strengthening public education in Canada. This is the second year they've recognized the country's top principals.